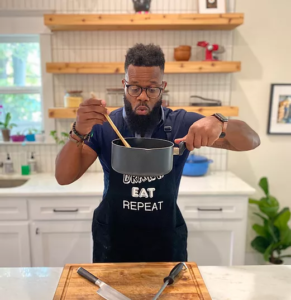 Chef Scotty Scott earned his Bachelor of Science (BS) in Psychology and his Juris Doctorate (JD) degree. A Detroit native and former sports agent, he did stints in Houston and Dallas before making Funky Town (Fort Worth) his current home. Chef Scotty Scott works in the oil & gas industry by day, and at night his creativity takes over; expressed through his passion for food & photography.
Chef Scotty Scott was a lawyer for 15 years and has been in the food game for the past 2-3 years. Over this short period, his talent has garnered the attention of Fort Worth Weekly Magazine, Tanglewood Moms Magazine, and 360 Magazine to name a few. He also made PopSugar's "30 Black Chefs and Foodies You Should Follow on Instagram ASAP" list because of his unique and unconventional recipes. During the interview, we talked about his artistic approach and passion for food…
Food is spiritual to me. This is the one art form that encompasses all the senses. You see it, it looks great. You taste it. You smell it. You hear it sizzling. You feel it on your tongue. So my thing is whatever I'm doing, I still have to feed people. I have to have people experience my food to know that, "Yes, it tastes as good as it looks!"
At an early age, his interest in cooking was birthed watching his mom in the kitchen and his father mastering the grill. After college he began hosting private dinner parties, then he started a personal chef business. Later on, he decided to share his creations with the world by infusing his cooking creativity with humor & music, and to date has over 26k Instagram followers. Along with keeping a solid and engaging social media presence, he is still a personal chef, participates in pop-ups across the country, and collaborates with restaurants to present his innovative and creative dishes.
Chef Scotty Scott shared that the recipe for achieving your goals requires focus, persistence, and a time commitment, and explained, "If it's not long hours, it's probably not worth it. It should be long hours. It should be difficult at some point in time." He admitted that the tasks can be daunting at times and one can become weary, however, he shared his perspective on what motivates him to continue…..
…it's your 10,000 hours of learning your craft. But also, you've got to make sure that whatever you're trying to do, put it out there for the world. Because you just never know who's watching you. Who's seeing what you're doing. Who's ready to give you that next opportunity. All those overnight sensations were working well before they became that sensation. And it takes work. It takes dedication. It's not easy!"
You can reach Chef Scotty Scott on the following social media platforms, and check out his website for his savory recipes!
We had a good conversation that ranged from food artistry and the tools needed to be successful, to Dolemite & 90s basketball. Be sure to SUBSCRIBE via iTunes, Amazon Podcasts, Google Podcasts, Spotify, or Pandora and check out the entire interview!