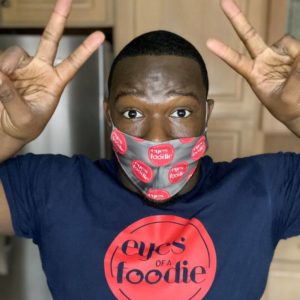 Mr. Wilder has a Bachelor of Arts (B.A.) Communication and Media Studies with a minor in theatre. A native of Detroit, he now resides in Los Angeles and works as a flight attendant, chef, blogger, and social media influencer. Chef Wilder is the creator of the growing social media brand – Eyes Of A Foodie.
During the interview, Chef Wilder reflected back on his success, and advised how he remains humble and always seeks ways to encourage others…
Just pursue your dreams. Go after it. Don't worry about if it goes wrong. What if it does go wrong? But more importantly, what if it goes right?
Chef Wilder got his start in the culinary world by showcasing his recipes; which evolved to reviewing restaurants, then expanded into catering, merchandising, and consulting. Each year he hosts food tastings where he debuts seasonal dishes, drinks, and desserts. Due to the high demand, he launched both a gourmet soup and cheesecake line (Nostalgia Cheesecakes). His cheesecakes landed Chef Wilder in the top 80 of Fox's 10th season of Master Chef with Gordan Ramsey. Along with a 10-page spread on Fox Magazine, he's also been featured on Delish, PopSugar, BuzzfeedTasty, FOX 2 Detroit, ABC 7 WXYZ Detroit, as well as in Kroger & Cold Stone Creamery. 
Chef Wilder's mother and grandmother were his inspiration for cooking. The youngest of 3 boys, his older brothers were into sports, whereas he was chubby, wore big glasses, and was very timid. Being a darker complexion than the rest of his family and a different last name also brought about many childhood challenges. However, Chef Wilder explained how he grew to love himself and gain self-confidence. He also discussed how he had to rely on his faith to get through losing both his brothers to car accidents. He left the following words of wisdom for those that fear trying… 
Don't be afraid to start over. Don't be afraid to step outside of the box, to think outside of the box. Don't let someone tell you what you should do, how you should look, what you should say. Don't let someone else hinder you or limit you.
You can reach Chef Wilder on the following social media platforms, and make sure you check out his website for ordering info!
Our conversation provided a lot of insight into Chef Wilder's daily routine and how he uses his spirituality to guide him. Be sure to SUBSCRIBE via iTunes, Amazon Podcasts, Google Podcasts, Spotify, or Pandora and check out the entire interview!