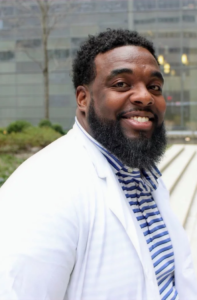 Dr. Ledet obtained his Bachelor of Science (B. Sc.) in Chemistry & Biology, Master of Science (MS) in Cell/Cellular and Molecular Biology, and Doctor of Philosophy (Ph.D.) in Molecular Oncology. He is currently working on his Master of Business Administration (MBA) in Strategic Leadership, and Doctor of Medicine (MD) Medicine. He is a Navy vet, a member of Phi Beta Sigma Fraternity, Inc, and a proud husband and father to two beautiful daughters. Dr. Ledet is also the president and co-founder of The 15 White Coats.
Dr. Ledet's inspiring story and continued work in the field of medicine have put him in the position to be featured on Dr. Oz, WebMD, TeenVogue, The Washington Post, Good Morning America, The Kelly Clarkson Show, and NBC Nightly News, to name a few. As a cancer scientist, he made the list of 1,000 inspiring Black scientists in America. Dr. Ledet also had two published articles last year: (1) Personal perspective: bootless, and (2) Identification of PIM1 substrates reveals a role for NDRG1 phosphorylation in prostate cancer cellular migration and invasion.
Dr. Ledet explained growing up, he didn't have the financial means, nor even know how to apply for college. As a result, he ended up enlisting in the military. After completing his stint in the Navy, his wife encouraged him to enroll in college so they could work on building their family. She assisted him in completing the application, and he enrolled in Southern University (HBCU). Dr. Ledet discussed how his introduction to science was a combination of happenstance and mentorship.
I sat in on a chemistry class first semester, rambling off the answers to all these questions. My professor pulled me to the side and asked if I ever considered science? I don't know anybody that looks like me that becomes a scientist. But she put me in touch with a scientist, and he cultivated my interest in chemistry and biology.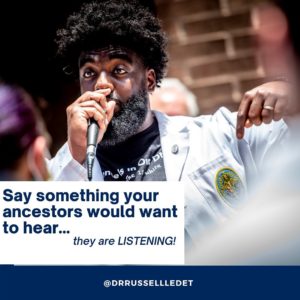 Through hard work, dedication, and resilience, Dr. Ledet currently holds three degrees while working on two additional. During the interview, he shared the fascinating story of how he went from security guard to doctor at the same hospital. We discussed how his life journey, both the good and the bad, has shaped him to be the man he is today and gives him confidence going forward. We also talked about being Black navigating through careers and education while preserving your heritage and being authentic to yourself. He left a message of encouragement for young people…
You can keep all your flavor and culture and accent and still be absolutely BRILLIANT!!
You can find more about The 15 White Coats and reach Dr. Ledet on the following social media platforms…
During the interview, Dr. Ledet not only discussed his journey in becoming a doctor, but we also had a great conversation about Black Love, fatherhood, and maintaining healthy relationships. Be sure to SUBSCRIBE via iTunes, Amazon Podcasts, Google Podcasts, Spotify, or Pandora and check out the entire interview!